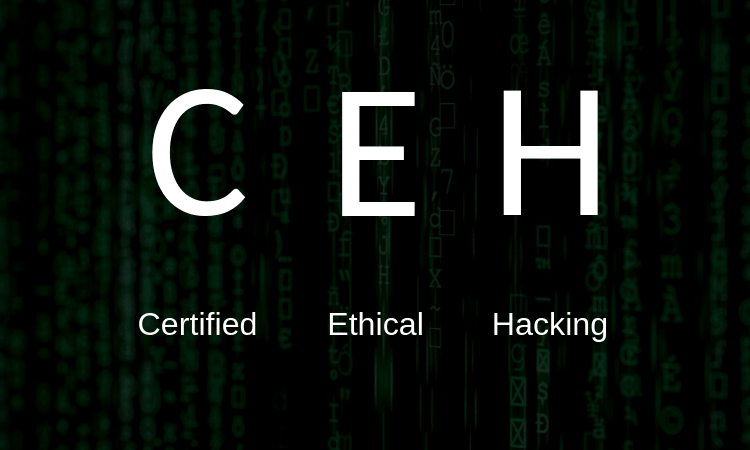 HOW TO BECOME A CERTIFIED ETHICAL HACKER v11 (CEH)?
In today's digital age, everything is available online. Businesses and customers have developed throughout time, and some of the most important goods, services, and financial transactions now take place online. This overreliance on online platforms has also resulted in a surge in cybersecurity breaches for large corporations, resulting in data loss, revenue loss, and overall brand value degradation in today's competitive market.
According to a University of Maryland research, hackers strike every 39 seconds, or 2244 times each day on average. That is just astounding, given the number of ransomware and malware attacks that occur on a regular basis. And by using a basic password and non-secure usernames, you are guaranteeing hackers have an easy win.
What is Ethical Hacking?
Ethical hacking is similar to Penetration Testing in that Ethical Hackers are granted authorization by the company to break into their systems to test their defenses. An Ethical Hacker is a professional who, with the consent of the company, discovers vulnerabilities. Ethical hackers assist businesses in identifying and closing system vulnerabilities before an attacker discovers them. Companies benefit because Ethical Hackers are hired to hack into their systems, and if there are no weaknesses, the system is fool-proof and cannot be hacked.
What is Certified Ethical Hacker (CEH)?
A Certified Ethical Hacker (CEH) is a certification training program offered by the EC Council for professionals and corporate teams all over the world. This Certified Ethical Hacker certification training (CEH V11) is a widely known CEH V11 Certification training that verifies an individual's skill in establishing resilient network security to minimize harmful hacking attempts by developing a comprehensive pre-emptive countermeasure.
Who can be an Ethical hacker, and what do they do?
Any professional with a basic understanding of programming languages and networking would profit greatly from becoming an Ethical Hacker. White Hat Hackers are another term for ethical hackers. Experts that work as intrusion analysts, forensic analysts, security professionals, or anybody else who wants to work in these fields may become Ethical Hackers by enrolling in popular CEH Certification course from an approved training school.
The primary tasks of an Ethical Hacker are as follows:
Examine business systems for weaknesses.
To avoid abuse, double-check any patch settings and installs.
Assist in the avoidance of intrusion detection and prevention systems
Looks for flaws in wireless encryption in order to prevent attacks on online applications and servers.
Handle difficulties that emerge as a result of asset theft in laptops and system fraud.
How to become a Certified Ethical Hacker?
Professionals interested in pursuing a career in ethical hacking must first complete a formal Certified Ethical Hacking (CEH v11) course from an approved training school. There are many Ethical Hacking Certification Training courses available, but the CEH certification training provided by EC Council is among the finest and provides professionals with an advantage over non-certified rivals.
Who is eligible to take the Certified Ethical Hacking (CEH) v11 course?
Professionals that can benefit from Certified Ethical Hacking courses include, but are not limited to, the following:
Analysts and administrators of information security
Officers of Information Assurance (IA) Security
Managers or specialists in information security
Engineers or Managers of Information Systems Security
Officers or Professionals in Information Security
IT auditors and information security
Analysts of Risk, Threat, or Vulnerability
Administrators of Computer Systems
Engineers and Network Administrators
What requirements are needed to become a Certified Ethical Hacker?
Professionals must have at least two years of experience in the Information Security sector to be eligible to become a Certified Ethical Hacker. If the participant has the necessary experience, they must submit their eligibility paperwork to the EC Council along with a non-refundable fee of USD 100 in order to sit for the test.
The approved Network Security Training from EC-Council is another alternative for taking this Certified Ethical Hacking Certification Exam.
The Benefits of Becoming a Certified Ethical Hacker
With the increasing number of cybersecurity assaults throughout the world, there is a growing need for Certified Ethical Hackers from employers in SMBs, Large Corporations, and Government organizations. Billions of dollars in revenue are lost due to security flaws, and businesses want Ethical Hackers with solid expertise to assist them prevent such dangers and cyberattacks in the future.
Some main reasons why you should become a Certified Ethical Hacker are as follows:
Prepare for the ever-increasing demand for Ethical Hackers in the twenty-first century.
Assist businesses in defending against system assaults by thinking like a hacker to avert attacks.
Ethical hacking is a profitable career in several industries, with roughly 500,000 specialists needed worldwide.
Acquire professional recognition as an employee and consultant in the field of IT security.
Acquire a comprehensive understanding of hacking and safeguard your own online environment before it is hacked.
Certified Ethical Hacking training from EC-Council is the most comprehensive hacking course available, covering 20 of the most important security topics.
A Certified Ethical Hacker's Salary Prospects
According to salary.com, the average income of an Ethical Hacker in the United States is USD 99,384 and may go up to USD 126,113 based on experience, certifications, job profile, and city of employment.
Methods for Becoming a Certified Ethical Hacker (CEH v11)
As previously stated, there are two paths to becoming a certified ethical hacker. To begin, you must have two years of relevant experience in the IT Security sector. Second, enroll in an EC-Council Certified Ethical Hacking Training (CEH) v11 course from an Accredited Training Center.
This CEH v11 course is available as a 5-day instructor-led live online or classroom training for professionals.
Enroll in a 5-day (8-hour-per-day) or 10-day (4-hour-per-day) training course at an EC-Council Accredited Training Center.
To begin your preparation, obtain course materials from an approved training center.
Participate in a 5-day/10-day training session led by an Ethical Hacking teacher.
Participate in discussions with other Ethical Hacking aficionados from across the world to gain a knowledge of major security breaches.
Learn how to properly analyses system vulnerabilities and how to build a secure posture for your company against future assaults.
Clear your questions with a professional teacher and prepare for the Certified Ethical Hacking Certification Exam.
Clear your CEH v11 certification test on the first try to further your career as a Certified Ethical Hacker.
FAQs
Q 1. How do you become a certified information security professional (CEH)?
A 1. Information security experts must pass the 125-question EC-Council Certified Ethical Hacker test to become a CEH.
Q 2. What is the CEH credential used for?
A 2. The CEH is the first of three EC-Council Information Security Tracks that will assist you in mastering hacking technologies. What is the CEH credential used for? Establish and control minimal requirements for professional information security professionals to be credentialed in ethical hacking methods.
Q 3. Can I go over my answers again during the exam?
A 3. Before you finish the test, you can go over your answers again. You can mark questions for further review.
Q 4. When will I find out if I passed or failed the test?
A 4. Within a few minutes of finishing the exam, you will be notified of your pass or fail status. You will also receive a printed report with your exam results and feedback on your performance in the skill areas evaluated.
Q 5. Can I use the certification name and logo once my tests are completed?
A 5. Yes, after you have obtained your EC-Council certification, you may use the Certification name and logo.
Other certification provided by certification are ECSA Certification, LPT Certification, RCDD Certification, CompTIA Security+ Certification, OSCP Certification. We can help you to choose best certification for you. For more information please Contact Us.