All you need to know about Digital marketing
With world's best digital marketing courses, you may improve your creative and analytical thinking skills and become a sought-after digital marketing certified professional.
Digital marketing is the data-driven marketing of products or services through digital technology, such as the Internet, mobile phones, display advertising, social media, and any other digital medium. Countless new digital goods, social networks, and search engines have emerged in the last 15 years, along with new approaches for automated, targeted, tested, and measurable digital marketing.
You'll have to wear a lot of hats in digital marketing, and you'll have to multitask and work across multiple divisions inside your company. To be successful in this sector, you need a mix of creativity, strategic thinking, communication skills, and precise attention to detail. Companies need highly measurable campaigns that map back to company goals and deliver a clear return on marketing expenditure, so you'll need to be data-driven and results-driven as well.
Learners can start a new profession or update their abilities with a digital marketing speciality by taking a variety of digital marketing courses and enrolling in digital marketing degree and diploma programmes. Digital strategy, search engine optimization (SEO), Pay-Per-Click (PPC) advertising, content marketing, email marketing, social media marketing, video marketing, and analytics are all in demand marketing skills.
In this field, demand continues to outstrip supply, with job growth of 36% projected in 2021 over the previous year.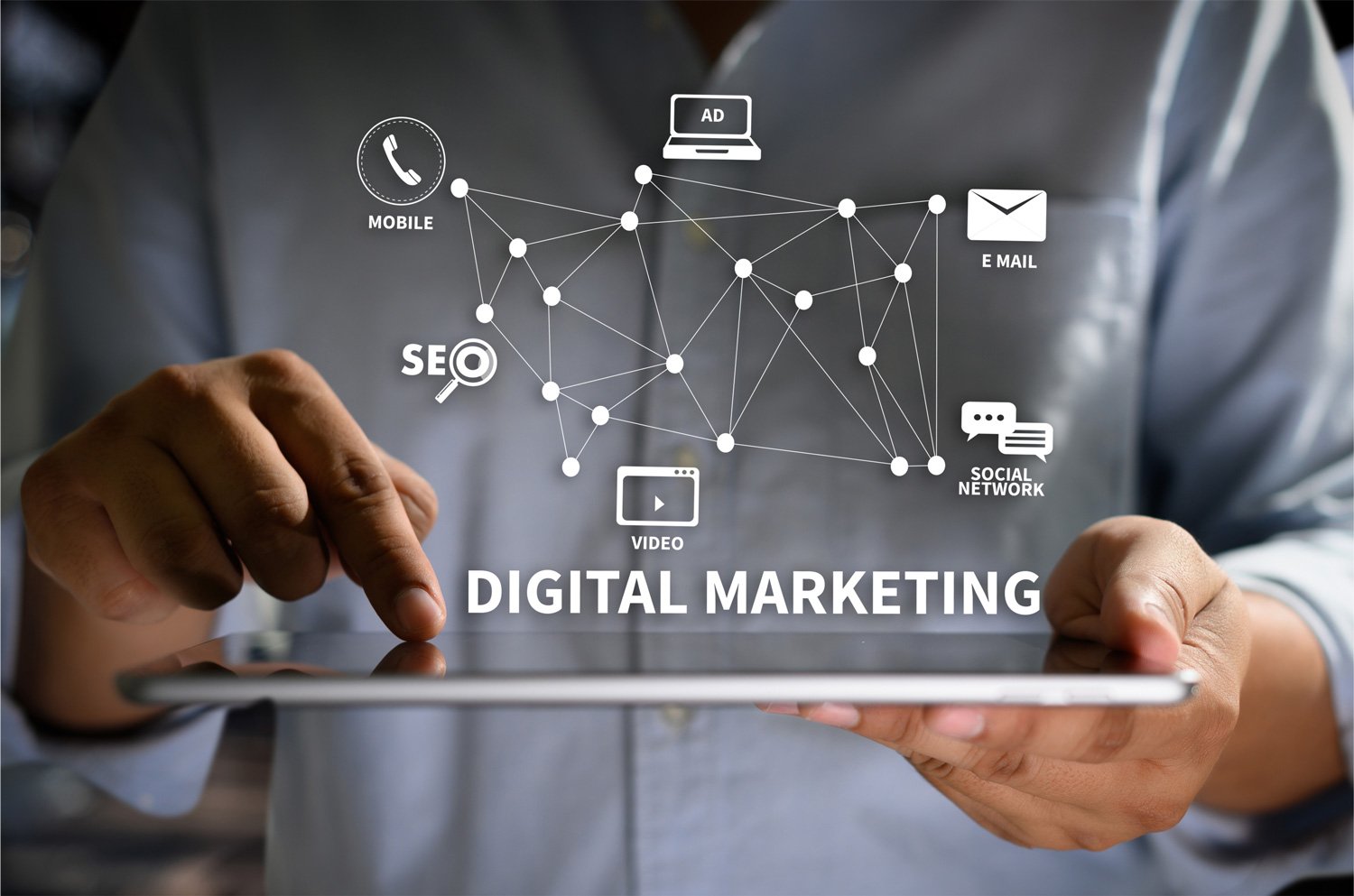 Top enrolment program for Digital Marketing
At Certification Forest, you get a quality education with impeccable knowledge and empirical as well as theoretical closure. Our top-grade trainers with extensive experience in teaching and consultancy render an ideal understanding of a plethora of concepts that are the latest on the knowledge-front in the field of digital marketing.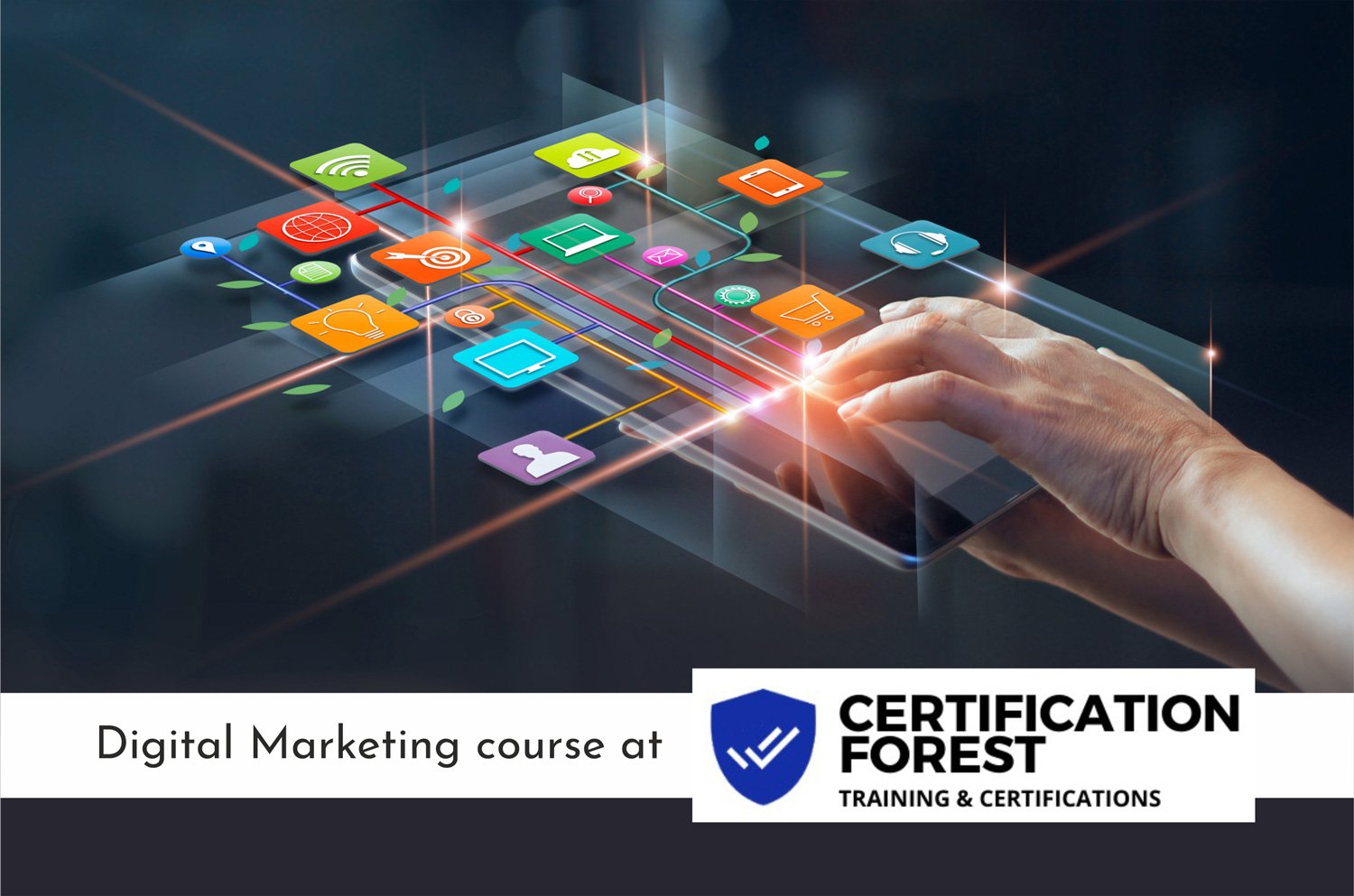 What we offer?
Tailored according to your needs You can choose your area of special expertise and we render you special tailored emphasis on that subject matter. Flexible timing You set the pace of your learning according to the availability of learning. Personalised coaching We lay personal attention on each student of ours by providing a highly interactive environment. Interaction session Each session is summed up by a question and answer session where students clear all their doubts and get through what they have studied. Live projects Students are taught through case studies and are made to handle live projects through which they get a practical approach. Free tools A large number of digital marketing and creative tools are introduced free to students. Up to date curriculum Our curriculum is up to date designed according to the fresh google updates. Placement support On completion of the course, we provide students with placement support.
What makes Certification Forest an ideal choice for a Digital Marketing course?
We are here to help you achieve your goals in the most productive and informative way possible. Our team of professional trainers are up to date with the core digital specialities covering SEO (Search Engine Optimisation), PPC (Pay Per Click), Online Reputation Management, mobile and social media marketing to Emails, Google Analytics, Google Adwords training, Facebook marketing and Content Writing which are in great demand by companies nowadays. Get certified with Certification Forest to enhance your skills and build a digital marketing career from scratch. No matter if you're a beginner or an entrepreneur trying to enhance online engagement, this course will help you grow. Other main Incentives are:
100% job assistance Live project training Updated course Weekdays and weekend batches 30+ course modules Flexible hours Professional trainers Interview assistance
Choose Your Preferred Learning Mode

Looking for a customized training?
Duration: Two Months
Fast track course of One Month also available.
Class Sessions: 90 minutes on weekdays from Monday to Friday.
Module 1
Digital Marketing Fundamentals Topics: Introduction to Internet Marketing | Primer of Traditional Marketing How Digital Marketing scores over Traditional Marketing? | Planning online campaigns Creating digital banners | Learning lead generation | Digital Moments of Truth World Wide Web and WordPress | Domain and Hosting Configuration | Website Building Inbound Marketing and Web Content Writing | Understanding Call to Action
Module 2
Social Media Marketing with Creative Tools Topics: Importance and relevance of various platforms | Content creation and creative tools Social Media Marketing Strategy | Facebook & Instagram Business Marketing Twitter Marketing | LinkedIn Marketing | YouTube Marketing
Module 3
Search Engine Optimization Topics: Introduction | Keyword Research | Competitor Research | On-page Optimization Off-page Optimization | Google Algorithms | Audits | SEO content writing | Webmaster tools
Module 4
Search Engine Marketing with Google Ads Understanding Google Ads, Ad Objectives, Budget Optimization Targeting Options Ad reporting, and Optimization, Pricing Models, PPC Cost Formula, Ad Page Rank Billing and Payments Keyword Planning, Text Advertising, Ad Groups, Bidding Strategy.
Module 5
Measuring and Optimizing with Google Analytics Basics of Google Analytics: Integration of Analytics on various platforms Dissection of Analytics: Acquisition | Organic Search Report Segmentation | Dashboard | Analytic Reports
Module 6
Learning to earn online Personal Branding and Influencer Marketing | Affiliate Marketing | E-commerce Secrets to pass freelancing websites tests
Module 7
Content Marketing Introduction |Content for social media |Blogging | Writing effective copies
Module 8
Online Reputation Management (ORM) ORM & its importance | Social listening | ORM Dos & Don'ts | Case Studies
Module 9
E-mail Marketing Effective Email Content | Templates | Automation | Popular Automation Platforms Workflow creation | Automation Functions from Mail Chimp
Module 10
Career Counselling Interview process and preparation | Placement options